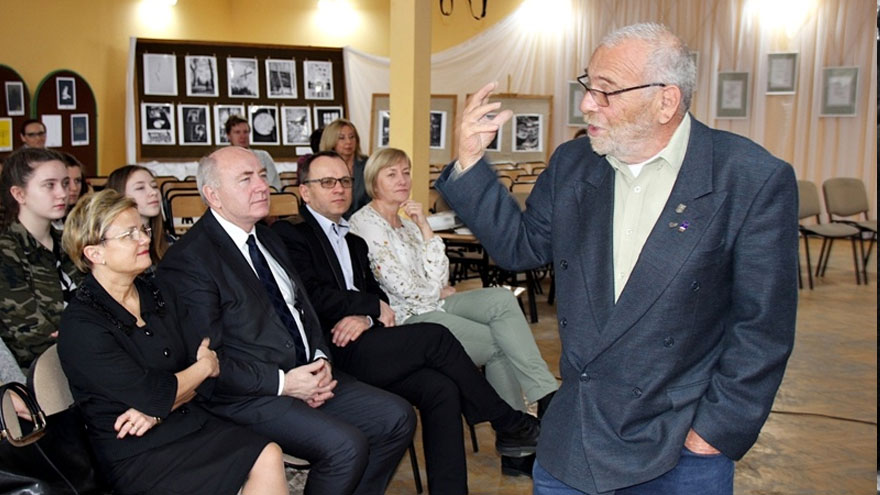 17 Dec

YAD VASHEM EDUCATORS VISIT THE REGIONS OF POMERANIA AND WESTERN POMERANIA

Orit Margaliot and Alex Dancyg, educators from Yad Vashem, visited Tricity and Wałcz from 6 to 10 March 2017.

The meetings in the Pomerania and Western Pomerania Regions took place thanks to the cooperation of the Centre for Education Development from Warsaw and the Yad Vashem Institute from Jerusalem, as part of the Retaining Memory programme. They were organised by the teachers who participated in a seminar at Yad Vashem last year.

Meetings in Tricity (Gdańsk, Sopot, Gdynia), 6 to 8 March 2017
The Yad Vashem educators met with high school (sixth form) students in three schools in Gdańsk and one in Gdynia. The Israeli guests also visited the European Solidarity Centre in Gdańsk and the Emmigration Museum in Gdynia.
The educators' visit to the Pomerania Region was coordinated by Bożenna Sucharska.

Meetings in Wałcz, 9 and 10 March 2017
The Israeli educators participated in three meetings in Wałcz. The first of these took place in the Centre for Continuing and Vocational Education in Wałcz on 9 March. The participants included the Head of the District and his Deputy, the School Prinicipal, and school students and teachers from the centre, one of the Wałcz high schools (sixth form colleges), all Wałcz middle schools, and auditors of the University of the Third Age. Two meetings were held also on the next day: at the Agricultural Centre of Continuing Education in Wałcz and the middle school in Chwiram.
The Israeli educators' visit to Wałcz was coordinated by Elżbieta Grzech.